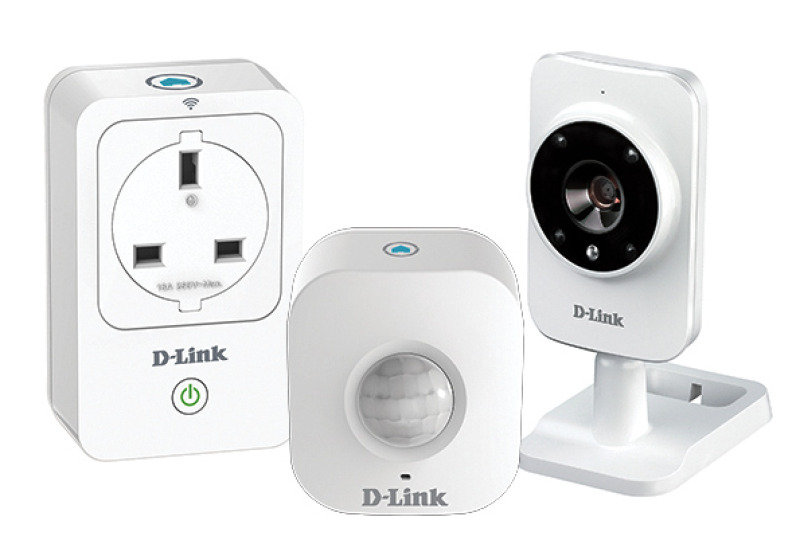 There are lots of ways to create a connected home. My colleague Alan Buckingham is using Amazon Echo as the base to control his home's lighting and heating, with occasionally interesting results (Alexa sometimes leaves him sitting in the dark).
If you're not sure where to start, and you don't want to spend too much money getting up and running, then mydlink Home's Smart Home HD Starter Kit from Ebuyer is a simple and smart solution. For your money you get an HD night-vision camera, Smart Plug and Wi-Fi Motion Sensor.
The camera (DCS-935L) lets you view your home on your smartphone and includes motion and sound detection. It offers 720p video and built-in night vision. Sound can be toggled on or off, and you can take screenshots of interesting activity. You can zoom in and out of the screen to look at things in better detail.
The smart plug lets you remotely control appliances, such as lamps, and you can turn them on or off, or schedule actions. You can monitor energy usage of connected appliances, and the plug will prevent the items from overheating via a useful built-in thermal sensor. The motion sensor can alert you by push notification when movement is detected in your home and it has a range of up to 8 meters.
You can, of course, use the devices in conjunction with one another by setting up rules. If the motion detector spots movement, or the camera hears a sound, they can turn on the plug, which -- for example -- could cause a light to come on.
Setting the kit up is very easy. Just scan the first QR code in the Quick Install Card to grab the relevant iOS or Android app. Open the app and create a free account. Click the Add new device button and then scan the second QR code using the app. Plug all of your devices in and then follow the setup process for each in turn. If your router supports WPS, setting up the products is pretty straightforward.
If you run into problems, as I did when setting up the camera, you can switch to doing things manually. This takes a little longer but is simple enough. Once set up you can password protect the camera to prevent anyone gaining access to it.
As soon as everything is up and running, you'll probably need to install any available updates.
While it's very much a starter kit, everything works really well. You can get alerts sent to your phone, so if someone breaks into your home you'll get notifications when motion is detected, and also if anyone unplugs one of the devices.
The motion detector is very good I've found, and you can adjust the sensitivity which is useful if you have pets in the home which might trigger it continually.
If your smart home needs are pretty basic -- and let's be honest, most people don't require anything too wildly futuristic -- then this is a great starter kit, and you can add extra components to the setup as and when required.
The Smart Home HD Starter Kit costs £121.18 from Ebuyer (with free P&P), and comes highly recommended.