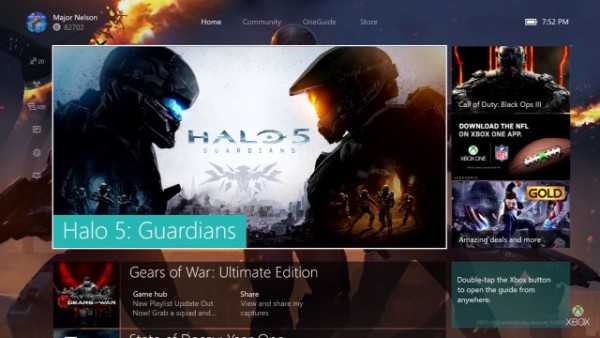 The New Xbox One Experience is just around the corner. We already know that the rollout starts on 12 November, and that means that there are just ten days until Windows 10 comes to Xbox One gamers. Today Microsoft shows off what there is to look forward to in a couple of new videos.
This is not a small update by any stretch of the imagination -- it sees the arrival of the New Xbox One Experience. Not everyone has been keeping up to date with the snippets of news that have crept out over recent months, nor have they all been taking part in the preview program. But whether you've kept abreast of what's to come or you haven't got a clue what to expect, the videos serve as an excellent introduction.
Presented by Larry Hryb and Richard Irving, the videos show Xbox 360 backwards compatibility, the new Xbox One Home, and vertical scrolling to access content. Just like Windows 10 on the desktop, Xbox One also gains Live Tiles which include "contextual items that allow you to easily see messages straight from the developer, see which friends are playing games, and share your latest game clips and screenshots".
There's also the new Guide which, Microsoft explains, provides instant access to:
Profile: You can add and manage profiles on your console, switch users, view your profile, and view your achievements here.
Friends: You can easily see which friends are online, see the games they are playing, and invite them to join your game. This is the default section of guide that first opens. In game, you will be able to check your friends' status up to 10x faster.
Party: You can easily start or manage a Party, which can now include 12 active participants, making it 3x as fast to start a party and 6x faster to join a party while playing a game.
Messages: Easily access all of your messages and group text chats via the new guide -- starting November 12.
Notifications: Your Notifications will also be included in the guide and we made improvements to group your Notifications together by type, separating social notifications from game-related notifications from the developers.
Settings: We've redesigned Settings based on feedback to make the most commonly used items easy to access.
Snap: Easily snap an application, like achievements, from the guide.
The first video serves as a guide to Home on the New Xbox One Experience:
The second video highlights what's new in the Guide: