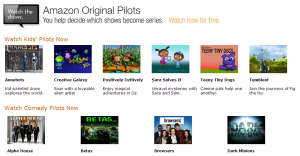 Amazon Prime has been slowly growing, from shipping to video and even a lending library, but the company has also been busy adding original content these days and that continues today. Previously the retail giant even crowd-sourced new shows, asking those who viewed the pilots to choose which would make it to production.
Now the company wishes to launch five new kids shows -- in pilot form, once again. "Following the positive response to its first set of TV pilots, Amazon Studios today announced it will produce five more original pilots for kids, including the first pilots for ages six to eleven. The new pilots come from Emmy Award-winning creators as well as a Hollywood newcomer discovered though Amazon Studios' open-door submission process. The pilots will stream on Amazon Instant Video and LOVEFiLM in the U.K. for customers to watch, provide feedback, and help determine which shows should be produced as a series", the company announces today.
Amazon gives only a vague indication of when its next "pilot season" will begin, but does let us know the titles of the five new shows that will debut during that period. The pilots include Gortimer Gibbon's Life on Normal Street, Grid Smasher, Hard-Boiled Eggheads, The Jo B. & G. Raff Show and Wishenpoof.
"We're very excited to be able to introduce these five original ideas and their talented creators to Amazon customers. After the success of our first pilots, we look forward to getting lots more fantastic feedback from kids and parents," said Roy Price, Director of Amazon Studios.
Look for the episodes on Prime Instant Video later this year and in early 2014. Hopefully all will have a more promising start than ZombieLand did earlier this year.