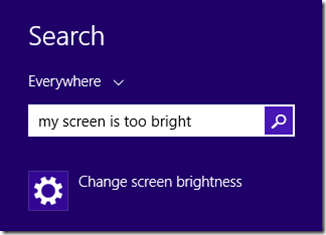 One of the things I like best about Windows 8.1 is the Smart Search feature. Powered by Bing, it lets you look for anything -- a program or app installed on your computer, a file stored on your hard drive or in the cloud, or a website. You open up the Start or Apps screen, and just start typing (or you can use the new Search button which was introduced with Windows 8.1 Update) and then choose the relevant result.
I have no complaints about it (although I still use Google for most of my web searches), but today Microsoft is making the Smart Search feature a whole lot more powerful with natural language understanding so you can search for something, even if you're not sure exactly what it is you're looking for.
Windows 8.1 Update is a hell of a lot easier to use than Windows 8 was, but working out how to do something, like install a printer, or find and install new apps, may not be immediately obvious to new users. Now though, you don't have to blunder about trying to work out where you need to go to perform that task -– you just tell Windows what it is you want to do. Type "Install a printer" for example and it will tell you that you need to go to Device Settings. Click the result below and you're all set.
You can search for all sorts of things, and phrase your query in different ways. For example, Windows will understand things like "get apps for Windows", "my screen is too bright", "how do I delete an app".
In addition, Microsoft has updated search to recognize more common spelling mistakes and it will now showcase more relevant apps related to your queries.
"One of the most exciting things about this feature is that it demonstrates how the Bing platform makes our Windows product more useful and helpful without having to update the Windows client software," the Bing Relevance Team states in a new blog post. "Just like our speech work in Xbox or our constantly improving Cortana functionality, the power of Bing as a platform means products you use every day simply get more personal, helpful and intelligent every day".
Smart Search will likely still draw a blank if you ask it where the Start menu is though...