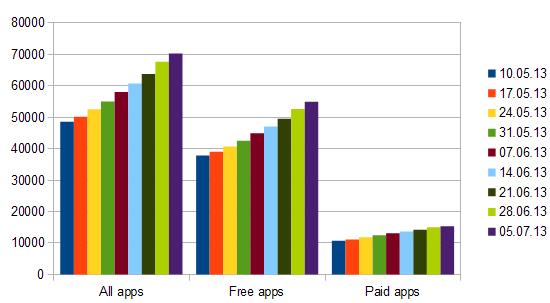 Thirty-six in a series. Microsoft confirmed this week that the total Windows Store app count crossed the 100,000 apps threshold. That's a big milestone for the company and users of the system.
These 100,000 apps are not available to all users though, as localization limits app availability somewhat. The US Windows Store for instance crossed the 70,000 apps mark this week which in turn means that about 30,000 apps are not available to users from the United States.
While there are ways around that, by changing your location in the operating system's options for example, it still limits the number of apps available as each store is facing localization restrictions.
A total of 70,299 apps are listed in the US Windows Store at the time of writing. Of those apps, 54,924 are free to download and use, while 15,375 are paid applications with or without trials.
That's a total increase of 2,668 apps in total, 2,286 free apps and 382 paid apps.
App of the week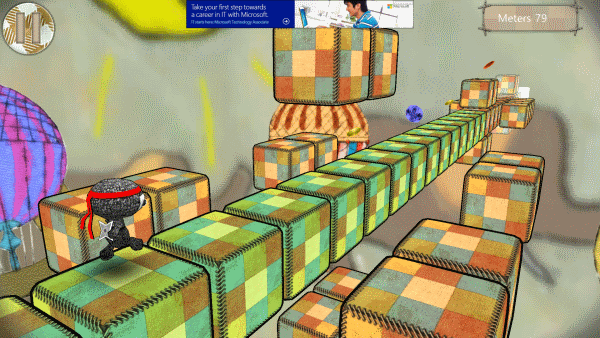 The name may imply otherwise but this is actually one of the best looking games in Windows Store right now.
It plays similar to popular games such as Temple Run and its clones, only that you are running around on cubes and cannot change the direction your character is taking.
That does not mean however that it is not entertaining, quite the contrary. One interesting game mechanic is your ability to rotate the cubes by 90 degrees so that you can change the path you are running on with a quick click of the left mouse button.
That's helpful to collect the coins and jewels that you find while you are running around, but also to avoid situations where you'd bounce into a wall or abyss if you are not using your rotation powers to avoid those situations.
There is one caveat though, you cannot rotate the cubes if you are running on brown cubes. It simply won't work and any attempt to do so will result in failure.
The developers have integrated a shop into the game that you can use to upgrade your character's powers, purchase other ragdolls or new themes.
New ragdoll characters get unlocked while you play the game. These new characters come with up to three traits or powers, some good, some bad. The Ninja Ragdoll for instance encounters 25% less traps in the level but is also unlucky at the same time, which means 10% less coins as well.
You earn so called Ragdollars when you play the game that you can use to buy items in the store. The amount is not enough however to make big purchases, unless you replay levels a lot.
What you may not like that much is the dynamic ad that is displayed on the top of the game screen.
Other apps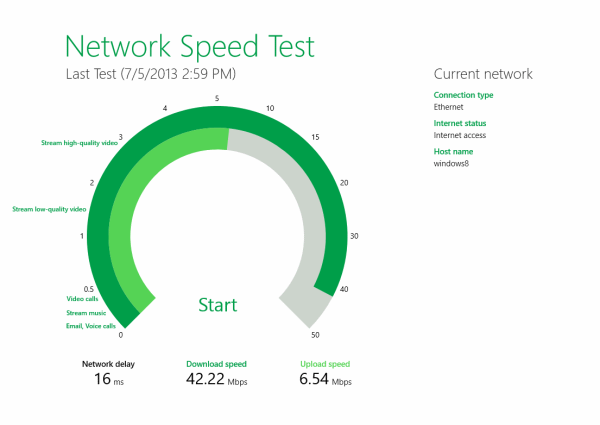 The official Microsoft application runs several benchmarks to test the network connection of the PC. This includes the response time as well as upload and download speeds.
What may be interesting to some is the chart that it displays afterwards highlighting if it can be used for high-quality and low-quality video streams, video calls or music streaming.
The test completes in less than a minute and a record of it is added to the history.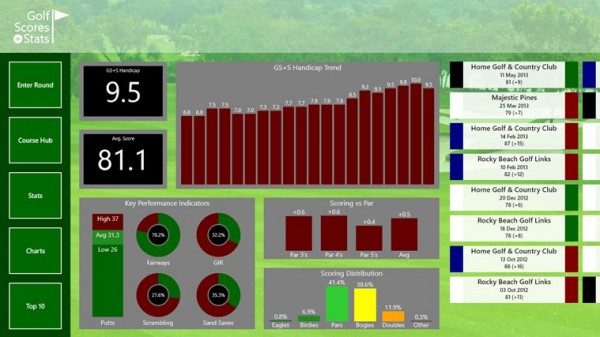 Golf Scores + Stats keeps track of the courses that you played and your scores on those courses. It requires quite some preparation before you can make use of it though.
The first thing that you need to do is add at least one golf course so that you can select it when you want to add scores. You can add the address if you want, but need to add the course's rating and slope, and par information for each hole of the course.
Once you are done with that, you can start to enter round information. Here you can add all kinds of information, from your final score for each hole to putts, fairways, GIR, sand saves and scrambling information.
The application itself displays a variety of statistics on its front page that display key statistics of the last 20 rounds that you have entered.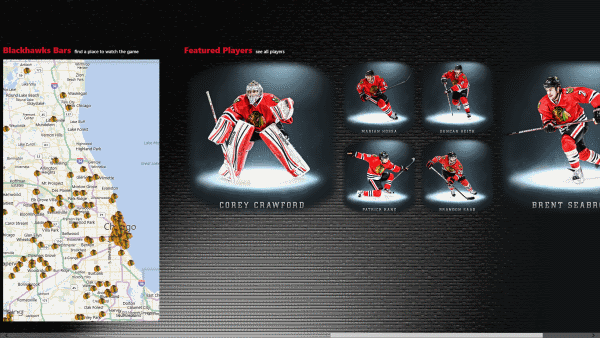 The official Chicago Blackhawks application for Windows 8 provides you with team news, photos, player profiles and a map that highlights Blackhawks Bars in Chicago.
The photo series the application makes available is one of the strong selling points of it. You get high quality photos of past games and other events, and while there are only six available right now, it is likely that new series will get added to the application regularly.
Player profiles offer information about each player including season and playoff statistics, as well as biographic information about the player's last season.
2150 A.D. ($2.99, trial available)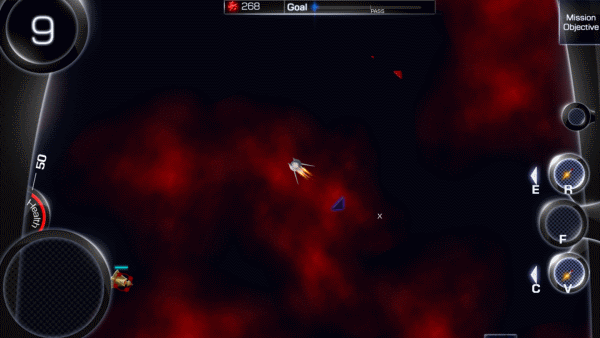 This space shooter is best played with a touchscreen as you control your ship using an area on the lower left corner of the screen that reacts on thumb input. While you can use your mouse for that as well, it feels awkward doing so.
The mouse is in fact only used for that while you are playing missions. All weapon firing is controlled by keys on the keyboard.
The game features more than 40 levels at the time of writing, more than 10 different enemy types and a ship that you can customize to your liking. You can pick different weapons like the fast shooting laser guns, self-guided missiles, bombs or missile bombardments.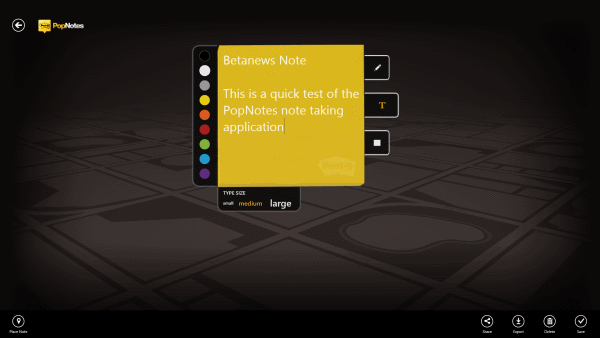 Use the Windows 8 app to quickly create notes on the system. To do so simply click on the add note button to open the editor. Here you can enter text using the keyboard, change the color of the note's background, or use the freehand tool to draw or add other information to the note.
Notes can be pinned to the start screen of the opreating system so that you keep them in view at all times while you are working on the system.
The app syncs each note automatically with your current location, and provides you with a map view that you can make use of to track notes by location.
Notes can be stored in the cloud so that they are available to be opened on any device running Windows 8, and also shared via email and other apps on the system.
What's not so good is that you cannot use different text sizes or text colors when you are using the application.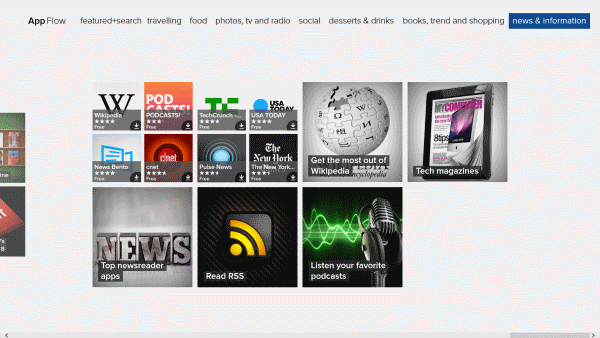 Discovery applications like AppFlow help you find new popular applications in Windows Store. You can use it to search Windows Store for applications that you are interested in, or browse one of the curated categories that AppFlow makes available.
Results are usually divided into app lists and the results itself. App lists group apps of a specific kind together. If you are looking for football apps for instance, you get app lists for football fans and news that you can browse next to the regular results.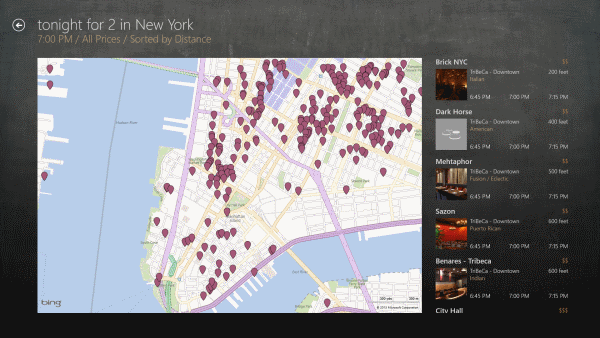 The application helps you find and book tables in restaurants in the US, Canada and Mexico. OpenTable uses location-based information if you have enabled that feature on your device. If you have not, you can enter the name of a city or location manually as well for dinner suggestions.
Once you have entered the location, date, time and party size, you are taken to a map of the location highlighting matching restaurants that still take reservations for the selected time.
Each restaurant is displayed with its name, location, food that it serves and price range indicated by Dollar symbols. A click on a suggested restaurant opens its profile page. Here you find additional information such as the dining style, parking and payment options, options to make a reservation, sample food that other users have spotted and information about the restaurant itself including directions to get there.
You can view the menu from the app which opens the restaurant's menu in the default system browser, and read reviews that users of the service or app have added to it.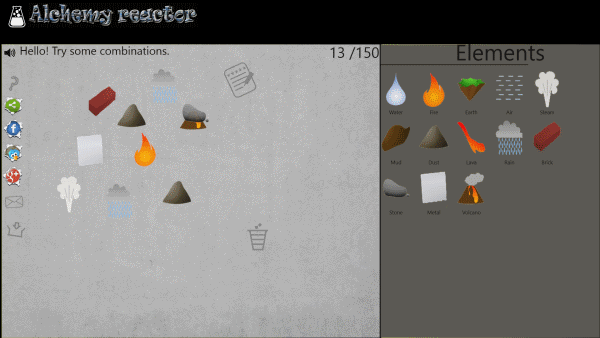 Your goal in the game is to create element combinations starting with the four basic elements water, air, fire and earth and going from there.
You can create a total of 150 different elements by combining the four basic elements and their combinations. Water and fire creates steam for instance while water and earth mud. You can then combine mud and fire to create bricks, and so on and so forth.
This may sound easy at first but once you get the ball rolling you end up with a lot of elements on the screen so that your combination options increase greatly.