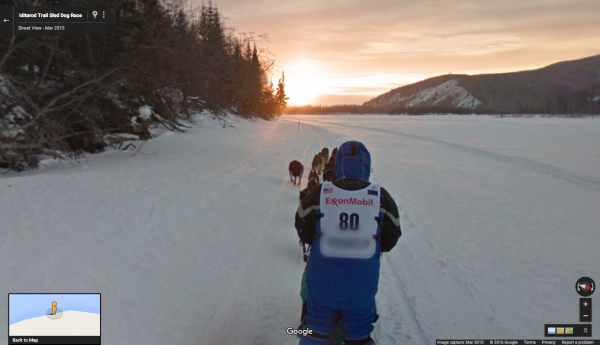 In just a couple of days the Alaskan dog sled race known as the Iditarod will kick off its freezing, snowy journey from Anchorage to Nome. It's a long, brutal trip that can take anywhere from nine days to as much as two weeks to complete.
If you can't make it up north to see the historic race then Google Maps can bring it to your computer with all of the beautiful scenery and brutal conditions. A reporter once called it "The Last Great Race", and that may be true after Hillary made the top of Everest and Amundsen got to the South Pole. Both were races, albeit of a slightly different kind.
You can now check out this National Historic Trail, used primarily during the gold rush of the late 1800's and early 1900's.
You can see all the action as Google's John Bailey explains "At the traditional "ceremonial start" (held in Anchorage), a special sled #80 driven by Dean Osmar, the 1984 Iditarod Champion, towed a second sled with a Googler wearing the trekker".
You can check it all out here.