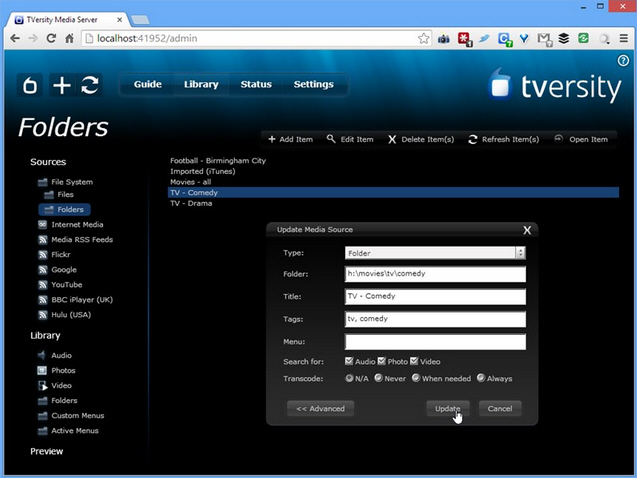 It's all change for media server TVersity with a new major release. The old Basic version has been retired and in its place comes TVersity Media Server Free 3.0, which offers identical functionality to the Pro version minus the ability to transcode audio and video when required.
Version 3 also shows off a brand new and simplified user interface, introduces support for hardware-accelerated H.264 encoding in the Pro build and adds support for both Roku and Chromecast.
TVersity Media Server runs on Windows PCs and provides a UPNP/DLNA media server for accessing that computer's media library from other devices, including web browser, mobile, PS3, Xbox 360 and -- from version 3.0 -- both Roku media players and Chromecast devices.
Support for Roku comes from the built-in Roku Media Player app, and Pro users will be able to stream any format to their Roku devices via on-the-fly transcoding using H.264 and HLS streaming.
Chromecast users can browse, select and search for media via the all-new HTML5 interface. Again, Pro users gain support for viewing all formats through their device via WEBM/VP8 transcoding.
Version 3.0 also debuts a brand new interface, which has been significantly simplified and built using HTML5 -- users can access it through their web browser.
Despite the tweaks, TVersity still feels less polished and refined than rival media servers such as Plex and MediaBrowser, but it's an interesting choice for those looking for a relatively simple DLNA/UPNP sharing solution.
TVersity Media Server Free 3.0 is available now as a free (for non-commercial use) download for PCs running Windows XP or later. A Pro version, which allows users to transcode video and audio where required, is also available with prices starting from $19.99.