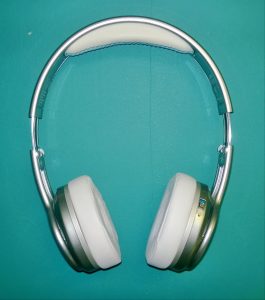 When it comes to music, I listen in many ways. When at home, I connect my devices to a speaker. In my car, I connect my smartphone to the stereo using an AUX cable. Both of these solutions are very positive for me. However, when I am on the go -- walking or on the train, I use ear-buds which are rather poor. They hurt my ears and the cord gets tangled.
I have always wanted Bluetooth headphones for the convenience, but historically poor sound quality deterred my purchase. However, in 2013, I have seen great strides in Bluetooth sound quality; especially with the amazing Logitech UE MINI-BOOM. And so, I obtained the SMS Audio Sync by 50 on-ear Bluetooth headphones, which are endorsed by 50 Cent. Yes, that 50 Cent.
While these headphones are endorsed by a rapper, I tested them with multiple genres of music across multiple devices. Don't worry BetaNews readers, all of my testing with non-Microsoft devices happened prior to the start of my all-in on Microsoft experiment.
I successfully paired and tested the headphones with the following devices:
At $229, these headphones are slightly expensive. However, upon opening the box, it is clearly a premium affair. The packaging is beautiful -- the box is well thought-out and heavy. Inside the box is a cleaning cloth, some paperwork, a carrying case, an analog cable, a micro USB cable and the headphones.
You may be wondering, why would Bluetooth headphones come with an analog cable? The answer is, it expands the functionality to non-Bluetooth devices. Also, the cable houses a microphone, which enables it to be used for making phone calls. More importantly, it enables them to be used on an airplane when wireless radios must be turned-off. That makes these headphones very beneficial for frequent flyers. However, please note that they are not active noise-canceling, so the aircraft's engine will likely be heard through the headphones.
Travelers will also appreciate the fact that the cans are collapsible and can be folded to minimize its footprint. It can then be put into the rugged carrying case to protect them. But, while they do come with a protective carrying case, please do not misconstrue this to mean that they are delicate or poorly made -- quite the contrary. These headphones are very solid and unfolding them produces a reassuring audio "click". In other words, not only is the presentation premium, but the build quality is too.
Regarding battery life, these headphones really shine. I can go many hours without needing a recharge. However, when I did need to charge, I was extremely pleased to see that the Sync by 50 on-ear Bluetooth headphones charge by micro USB. This same charging standard is used by smartphones and the new HP Chromebook 11. I can envision myself packing only one charger in a backpack with these headphones, my smartphone and that HP laptop. Awesome.
So, now that I have established that the build quality and overall presentation is premium, the million dollar question becomes, how is the audio quality? Really freaking awesome. As a testament to my satisfaction, I can confidently say that you cannot tell that these are Bluetooth when using them. In fact, I tested them in wired mode versus Bluetooth mode and could not tell the difference -- it's that good.
My biggest fear was that, since they are endorsed by 50 cent, they would be too focused on bass since that is so prevalent in his music. I am happy to say that my fear was unfounded. These headphones, with professionally tuned 40mm drivers, are well balanced and sound great with all genres. While I did test 50 Cent's music and other rap music, I also tested the entire Talking Heads discography, Weezer, Capital Cities and Lou Reed. The music all sounds crisp and bright and true to the source.
Speaking of audio quality, these headphones support the aptX codec which claims to provide improved audio over Bluetooth. However, for it to work, both the source device and the headphones must support it. In my testing, the only operating system that I could 100% confirm as supporting it was OS X. Apple's OS actually lists the aptX codec as active by holding down the ALT key, clicking the Bluetooth icon and selecting "Sync by 50". While I admit I am not a high-end audiophile, I must confess I could not tell the difference when listening to the same song on OS X versus any other OS. While I am sure apt X makes a difference on paper, I am dubious that the average consumer will notice anything.
Conveniently, there are controls located on the right side that allows the user to increase or decrease audio, skip tracks backwards or forward, and pause or play the song. I put my Surface 2 on my coffee table and started a playlist. I then relaxed on my couch and controlled the experience without getting up. While getting even less exercise is the last thing I need, the convenience was appreciated.
Even though these headphones seem tailored for music, I wanted to test them for other things too -- games and videos. Using my trusty Surface 2, I spent much time playing games like Six Guns, Rayman Jungle Run and Riptide GP. While the tablet's speakers sound great, the Sync by 50 headphones just enhanced the experience by providing improved audio and better immersion.
Movies and TV were equally good. Using the Windows 8 Netflix app, I watched a marathon of Everybody Loves Raymond and Ray Romano's nasally voice sounds epic on the Sync by 50 on-ear Bluetooth headphones. Explosions in movies sound amazing too.
Overall, the SMS Audio Sync by 50 on-ear Bluetooth headphones are the best wireless headphones that I have used. They are comfortable and adjust to accommodate my enormous head. Regardless of your taste in music, your favorite songs should sound wonderful. However, whether that justifies the $229 price tag is totally subjective. I tend to follow the old adage of "you get what you pay for", and with that said, the quality does match the price. These cans are highly recommended and they deserve a place on your list for Santa.